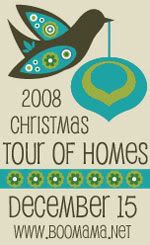 I'm a few hours late on posting this but better late than never I suppose. As I type this post, I'm listening to the sound of heavy sleet and freezing rain. It was 62 degrees here yesterday and today we are in the 20s...go figure. Tennessee weather is so strange that way. We are under some sort of winter weather advisory and schools are closed again tomorrow. Thankfully, I have lots of Christmas projects to keep my big guy busy. He is really enjoying his "snow days."
This is one of my favorite ornaments. It is a miniature nativity scene enclosed in glass. I won this in a contest at a church Christmas party several years ago.

Another favorite ornament from one of my former art students. She gave me a beautiful ornament every year. Merry Christmas Briah!!!

One of my Department 56 Billy Buttons snowmen. I've collected the figures and ornaments since the mid-90s. They are since retired and much harder to find but occasionally I will luck up on one at a garage sale or thrift store. I love them so much!!!

Snowmen and Stockings among clear lights on our Mantel. I never really had a clear vision of how I wanted to decorate the mantel. I've seen some very elaborate mantel decorations but went with simple and easy and used what I already had on hand.

I've posted this picture just for my sweet niece Avery who is one of my most faithful and regular blog readers. I thought you would like a sneak peek of one of your presents under my tree....betcha' wish you knew what's in there!!!